Betrayed by the State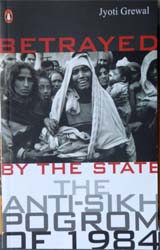 Title:
Betrayed by the State: The Anti-Sikh Pogrom of 1984

Rating:
Yellow
Genre:
Non-Fiction/History
Author:
Jyoti Grewal
Publisher:
Penguin Books
ISBN:
ISBN-10: 0-14306-303-0
ISBN-13: 978-0-14306-303-2
The Book:
The book is an evaluation of the occurrences of November 1984 in Delhi and the Rest of India. The author begins with the history/genesis of the Hindu Sikh divide, moves onto the political, religious and economic causes behind the situation in the Punjab of the 1980s. Then to the triggers which led to the assassination of Indira Gandhi and the unfortunate carnage which followed.
Then it moves to the current situation of the victims. Their longing for justice. Their lives - some still in ruins, others' normalised somewhat.
Comments:
The author of this book is someone who herself directly was a victim of the occurrences post the three days. Though, she never reveals in the book what happened that day when she came home crying from college. And, this seems to be an attempt by her to try to explain to herself in the most rational and sincere manner what exactly happened and so to the victims whose lives were destroyed in those three days. The analysis is remarkable in not missing out any perspective whatsoever whether it be political, economic, religious, socio-economic, socio-cultural, socio-psychological etc.
Here's a good review of the same book by Khushwant Singh, who is himself a self-proclaimed expert in this area. http://www.tribuneindia.com/2007/20071215/saturday/above.htm Though there are certain points where I myself differ from the eminent author's views. For one, his view of the Hindu-Sikh identity/divide is very British in nature, based on history, ignoring the psychological and social perspectives entirely.
About the book, anyone even remotely interested in the area would find it interesting. The only reason why I've given it a yellow is that I wouldn't recommend people to read it primarily because of the gory details the author goes into of the shameless acts. There are things that you can never imagine one human doing to another, leave alone, to a set of totally innocent and simple people/children. Fourth degree torture!